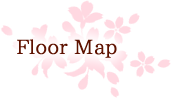 1F

2F

3F

4F

5F

6F

7F

8F

9F

10F

11F

12F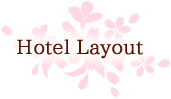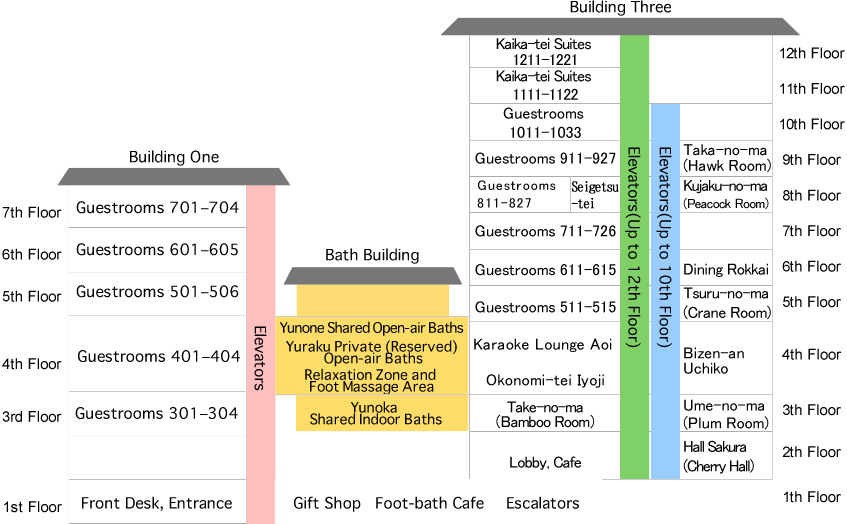 Lobby (1st Floor)

The lobby is a venue for chance encounters between hotel guests, and we hope it will help foster pleasant memories in each customer of their time in Dogo Hot Springs. With this in mind, we warmly greet every visitor with a smile.

Gift Shop (1st Floor)

Botchan dango rice dumplings, chestnut tarts and numerous other famous Matsuyama products and souvenirs are available at the gift shop. Come in and browse our offerings!
Resting Space (4th Floor)

Stop here to relax for a bit after leaving the baths.

Free Drink Area (2nd Floor)

Hours: 3:00–10:00 p.m.
All drinks in this area are free of charge to guests. Spend as much time here as you like, sharing local sweets, snack foods and more with friends and family in your yukata (light kimono) following a bath.
Relaxation Zone (4th Floor)

After a nice bath, relax your weary body to its core with a nice massage.

Hana no Ne (4th Floor)

Feel your fatigue melt away following a pleasant bath.
Karaoke Room (4th Floor)

Hours: 8:15 p.m. to 12:00 a.m. (midnight)

Special Karaoke Set

Karaoke + shochu liquor (one 5 go / 902 ml bottle) + small snacks
¥9,800 for 60 min.

Karaoke Prices

¥7,000 for 60 min.
¥10,000 for 90 min.
¥13,000 for 120 min.

Prices shown do not include tax.
Outside food and drinks are prohibited in the karaoke room.
Karaoke room drinks and snacks can be ordered in the lounge.
No user count is taken when renting the karaoke room.
It can be used by any group size for the same price.

Okonomi-te Iyoji
(Evening Restaurant, 4th Floor)

Hours: 9:00 p.m.–1:00 a.m. (closed on certain days)

If you're feeling a bit peckish, stop in at Okonomi-tei Iyoji for a snack or light meal. The menu features variety of different items that are perfect when you want something small to tide you over.

Ramen

\700

Sanuki udon noodles

\700

Rice with green tea poured in,
topped with nori (dried seaweed)

\700

(Prices shown do not include tax.)
copyright© Dogo Prince Hotel All rights reserved.