This special lounge next to the Dogo Onsen streetcar stop, created for guests of our hotel, can be used by customers after arriving by train or when exploring the Dogo neighborhood on foot.
It is equipped with massage chairs, complimentary hot tea, lockers for bags and luggage, and restroom facilities.
Use is free of charge for Dogo Prince Hotel lodging guests.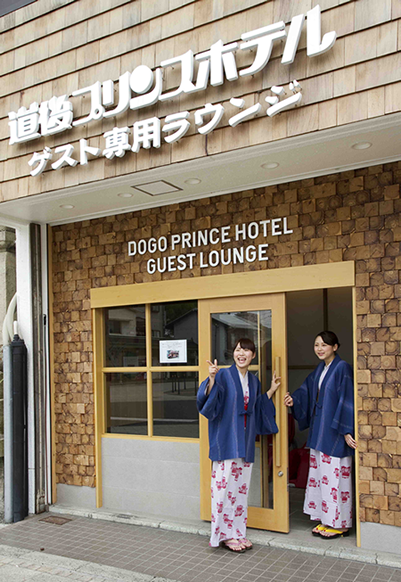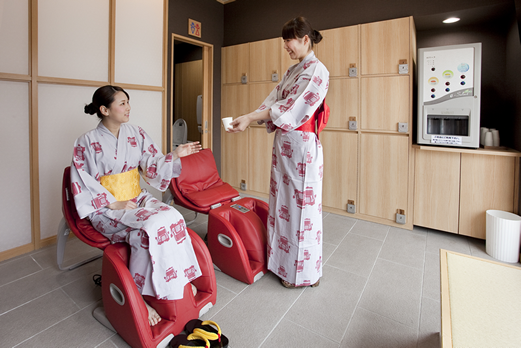 A free shuttle bus comes by every 10 minutes or so, stopping along its route at our hotel, the Dogo Onsen tram station, the Karakuri Clock. Buses include a retro-style, cab-behind-the-engine bus complete with wooden seats; a roofless, open-air bus decorated with illustrations of important cultural and historic figures; and even a shuttle bus featuring Yutama-oji, the hotel's mascot character. Enjoy your trip to the hotel in one of these fun vehicles!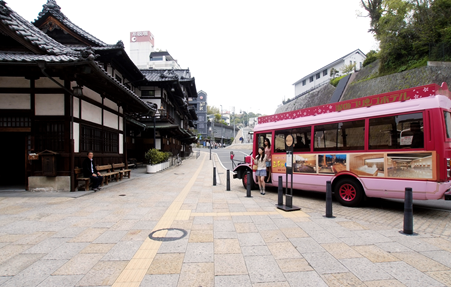 We rent out colorful yukata
(light kimono), obi sashes and
patterned tabi socks to guests.
Choose the colors and designs
you like and head out to the
atmospheric Dogo Hot Springs
Honkan, pop in at classy cafes
and shops along the Dogo
Haikara-dori shopping arcade, and explore other parts of the Dogo neighborhood on foot. You can even purchase your own pair of rubber zori sandals to wear together with your traditional yukata!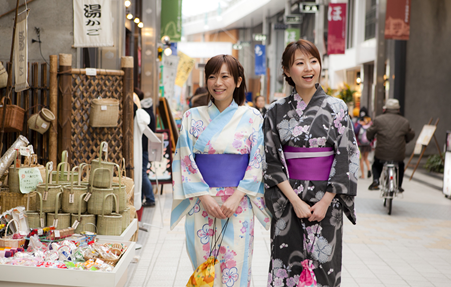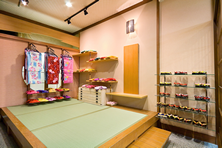 The roofless, open-top microbus—the only one of its kind in Japan—enables passengers to enjoy the weather of each season as they ride. It features illustrations humorously depicting people who have been fans of and visited Dogo Hot Springs since its establishment in ancient times. Take this bus along part of the old Shikoku pilgrimage route, which Buddhists have walked since long ago, and then continue a bit into the mountains to Okudogo Hot Springs, where western Japan's largest open-air bath is located. This Okudogo bath combined with a visit to the Dogo Prince Hotel's own open-air baths gives visitors the chance to enjoy two different hot spring water types in one visit.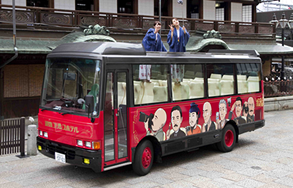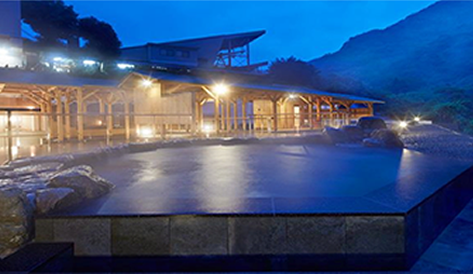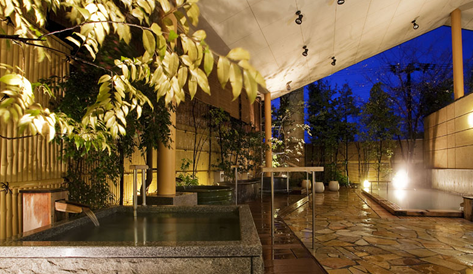 Grab your yu-kago, a bamboo bath-supply basket containing a towel and soap, and set out to soak your body while also enjoying some foot baths along the way.
Travel with ease on our old-fashioned, cab-behind-the-engine shuttle bus or our roofless, open-air bus, and take in the charms of this hot spring neighborhood as the stress and worries of daily life drift far from your mind.
We keep plenty of yu-kago ready at our front desk and lend them to lodging guests free of charge.



Enjoy powerful dance and music performances using
Iyo Suigun-daiko (a type of taiko drum).
Performance schedules are irregular; please inquire for details.